Over the past week, I've been working on another vector project. This time, I decided to vectorize the two main Megaman logos. In case you haven't noticed, over the past decade, there has been one major element common in all of the Megaman game logos. From
Megaman and Bass
, to
Megaman X Command Mission
, to
Megaman Battle Network
and even the latest
Megaman Zero Collection
. By carefully tracing over the letter shapes in the largest available logo, I was able to make a fairly accurate rendition of the letters.

There is also another version of the Megaman logo used mainly on classic games such as Megaman Powered Up, Megaman Rush Marine, and even Megaman Star Force. This one was more difficult to create.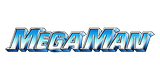 Now that I've finished, you can use these designs however you wish. Using any program capable of handling SVGs or the PNG version, you can stylize the text and make a logo for a Megaman game. I think this will be especially useful to game makers since looking for these designs are usually difficult.
You can download both the SVG and PNG from the link below.
DOWNLOAD