I don't know if you've heard but down here in Southern California, we're having some of the most bizarre weather we've had in a while. Finally a wet winter. There are heavy rains, wind, and lightning here. I'm amazed by it all. I like this kind of weather. It's very fun to watch. There has been damages as well and luckily, I'm not one of the few with a flooded refrigerator and bedroom.
Here is a video of a flash of lightning outside my door. Finally!
Here is a picture outside my house, but in the afternoon when the sun was out.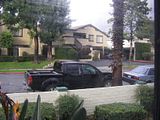 More pictures. It hailed the next day and I got to see the brightest rainbow I'd ever seen.