Upon request, I have vectorized Megaman's battle sprite. This is simply one of the ugliest things I've done. Sprites are very low-res and lack detail.
Here is the final product.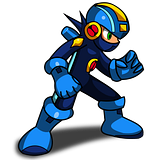 As you can see, many shapes are either poorly defined or excessively round.
See, the thing about sprites is that they're not real. They always lack details from the original but we still perceive them as what they are. Compare the real illustrations with the sprite concepts and the differences are notable.
Here is an animation comparing the differences in battle sprites. That's what I mean.

And here is a smaller version of the vector drawing, but larger than the sprite.