Well I thought that since I was logo-happy recently, I should try to make a vector version of the Megaman Battle Network logo. Logos for any game of the series is quite rare. The TREZ Gallery has a nice collection of them. What I have is an upscaled and editable version of the Battle Network 6 logo. I liked the style more on that one.
This is the final product. (click for a bigger version)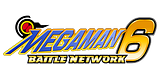 And in case you don't want the 6 there, I exported a plain version, too.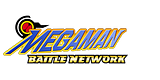 I think it's so well made that I might use it or make something out of it someday. Better than the outdated BN1 logo everybody keeps taking just because it's a sprite. Speaking of which, here is a sprite version if for whatever reason you'd want one like that.

If you want to edit the logo directly, I've uploaded the SVG file for it. Isn't it amazing? I wish I had this option in the past.
Download Inkscape SVG file