I just had to do this. See, my buddy Midnite from TREZ was kind enough to share pictures from the
Shooting Star Rockman Official Complete Works
book. It's a big book full of various concept and complete images of all the characters in the game. One of the more well-known concepts is Harp Noise. Apparently it was in the works but dropped for whatever reason. Maybe they chose Cygnus instead. But of course, it doesn't exist. I ripped all the textures in the game and there was nothing out of the ordinary.
Using one of the pictures he took, I was able to make a vector recreation of it. I think it came out kind of nice.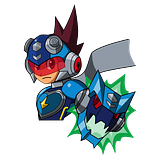 And here is my rendition of what Harp Noise would look if it were in Vibrant Form.
Finally, just for fun, a usable mugshot I made out of it.
This illustration book fascinated me. I didn't know they had a picture of every mugshot and battle card image in its original state. I want to see more - and maybe even the EXE works, too.