My latest vector work is well-made rendition of the beveled 3D-looking Mega Man Star Force emblem.
See: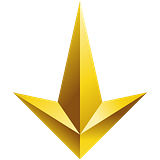 It looks very close to the original, plus this one should be mathematically accurate. You won't find this emblem anywhere else on the Internet, let alone with a transparent background. The size is okay for almost anything needed. But in case you need a larger size or want to see the SVG file for yourself, I've made it available.
http://willhostforfood.com/access.php?fileid=68806
You must save it to your computer for it to work. I use Inkscape for vector.