I'm getting more interested in vector art. It's also for school. For practice, I decided to make a vectorized version of the Hare Jet (snow bunny) EM virus from Megaman Star Force 2.
Here is the final picture (at a decent scale of 1000x1000)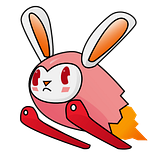 I might do more for practice. The one I'm doing for school will be the Mettena virus.