I may have already mentioned these, but there is nothing wrong with putting these out more.
As you may not know, Future Publishing is the company that prints Nintendo Power. I needed it for a school project, but I had a hard time looking for a hi-res version that I could use. So I found a
PDF
that had their vector graphics and now, this should be the largest version of their logo on most of the Internet.
Here is the Future plc logo: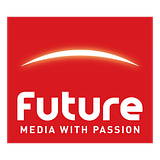 Plus, I got to snatch a Nintendo logo as well. Also very clean and hi-res:
Of course, this means these images can be used as you wish. Desktops, fake magazine covers, collections.